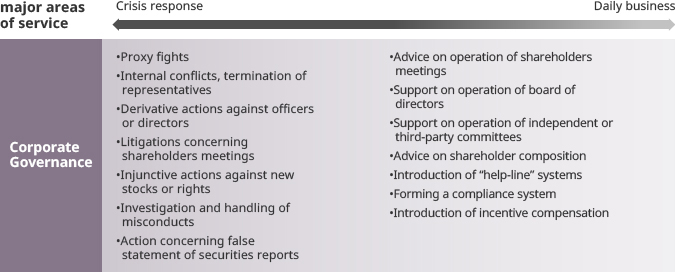 We have extensive experience and accomplishment in a critical situations such as proxy fights, disputes amongst management (including internal conflicts and termination of representatives), derivative actions against officers or directors, injunctive actions against third party allotment of new stocks or rights, investigation and handling of misconduct cases (such as accounting misconduct).
We will support all legal aspects of daily business of our clients employing a strategic perspective and with a view to minimization of future risks by using our knowledge and accumulated know-how.
Specifically, we advise on operation of shareholders meetings, board of directors, independent committees, shareholder composition (such as advice on measures in connection with the proportion of shareholders or Employee Stock Ownership Plans), corporate governance, such as introduction of measures against takeover bids, and compliance matters such as upgrading of internal control systems and regulations, guidance to officers and employees, introduction of "help-line" systems and render service related to helpline.